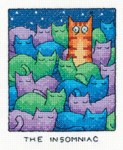 The Insomniac Cross Stitch Kit
The Insomniac by Peter Underhill from the Simply Heritage Collection at Heritage Crafts. Kit contains 14ct Zweigart aida fabric, Charts and instructions, Needle and DMC stranded Cottons.Approx. design size 9 x 11.5cm (3.75 x 4.5")
Salesprice with discount:
Discount: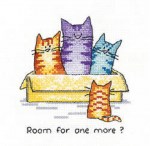 One More? Cross Stitch Kit
One more? by Peter Underhill from the Simply Heritage Collection at Heritage Crafts. Kit contains 14ct Zweigart aida fabric, Charts and instructions, Needle and DMC stranded Cottons.Approx. design size 11 x 11.5cm (4.25 x 4.5") Currently out of stock, normal despatch time 7-14 days.
Salesprice with discount:
Discount: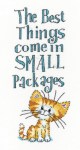 Small Packages Cat Cross Stitch Kit
Small Packages from the Peter Underhill Collection at Heritage Crafts. Kit contains 14ct Zweigart aida fabric, Charts and instructions, Needle and DMC stranded Cottons. Approx. design size 8.5 x 20cm (3.5 x 7.75")
Salesprice with discount:
Discount: