A Tree in Blossom Counted Cross Stitch Kit
DMC & The British Museum Counted Cross Stitch kit. A Tree in Blossom by William Giles. Design Size approx. 36 x 26cm (14 x 10") Kit includes 14ct White Aida, DMC 6-strand Mouline thread, Cross stitch chart, coloured cross stitch guide and needle. RRP £40
Salesprice with discount:
The Great Wave Counted Cross Stitch Kit
DMC & The British Museum Counted Cross Stitch kit. The Great Wave by Katsushika Hokusai. Design Size approx. 36 x 26cm (14 x 10") Kit includes 14ct White Aida, DMC 6-strand Mouline thread, Cross stitch chart, coloured cross stitch guide and needle. RRP £40 Currently out of stock, normal despatch time 7-14 days.
Salesprice with discount: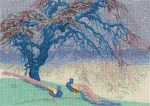 When Winter Wanes Counted Cross Stitch Kit
DMC & The British Museum Counted Cross Stitch kit. When Winter Wanes by William Giles. Design Size approx. 36 x 26cm (14 x 10") Kit includes 14ct White Aida, DMC 6-strand Mouline thread, Cross stitch chart, coloured cross stitch guide and needle. RRP £40
Salesprice with discount:

When Winter Wanes Counted Cross Stitch Bookmark Kit
DMC & The British Museum Counted Cross Stitch Bookmark kit. When Winter Wanes by William Giles. Design Size approx. 5.5 x 17.5cm Kit includes DMC 6-strand Mouline thread, 16 count aida band fabric, Cross stitch chart, coloured cross stitch guide, card, felt and needle. RRP £15
Salesprice with discount:

A Tree in Blossom Counted Cross Stitch Bookmark Kit
DMC & The British Museum Counted Cross Stitch Bookmark kit. A Tree in Blossom by William Giles. Design Size approx. 5.5 x 17.5cm Kit includes DMC 6-strand Mouline thread, 16 count aida band fabric, Cross stitch chart, coloured cross stitch guide, card, felt and needle. RRP £15
Salesprice with discount:

The Great Wave Counted Cross Stitch Bookmark Kit
DMC & The British Museum Counted Cross Stitch Bookmark kit. The Great Wave by Katsushika Hokusai. Design Size approx. 5.5 x 17.5cm Kit includes DMC 6-strand Mouline thread, 16 count aida band fabric, Cross stitch chart, coloured cross stitch guide, card, felt and needle. RRP £15
Salesprice with discount:

Display #