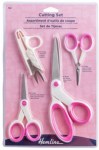 Hemline 4 Piece Cutting Set
Hemline Cutting Set - fine tip and general purpose scissors for all craft and sewing applications Set includes: Bent Scissors (8in/20.3cm); Micro Tip Scissors (4in/10.2cm); Embroidery Hobby Scissors (5in/12.7cm and Thread Snips (4.5in/11.4cm) Features: Includes fine tip and general purpose scissors Contemporary styled to suit the craft and hobby enthusiast Two tone comfort soft grip scissor handles Right or left handed The micro tip scissors are perfect for all intricate
Salesprice with discount:
Discount: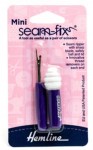 Hemline Mini Seam-Fix
Hemline Mini Seam-Fix A tool as useful as a pair of scissors! Seam Ripper with sharp blade, safety ball and lid. Innovative thread removers on each end. Specially formulated plastic material grabs and removes excess threads without marking or sticking to the fabric.
Salesprice with discount:
Discount:

Display #