Me to You - Tatty Teddy
Display #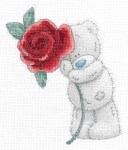 Tatty Teddy Printed Cross Stitch Kit - Rose
DMC Tatty Teddy Printed Cross Stitch Kit - Rose This is a printed cross stitch kit, you don't stitch Tatty Teddy himself just simply stitch the motif and his blue nose! Level: Easy. Kit includes DMC 6-strand Mouline thread, 14ct printed aida, cross stitch chart, coloured cross stitch guide and needle. Design size - 14 x 18cm (5.5 x 7") RRP £18.99
Salesprice with discount: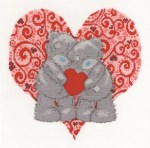 Tatty Teddy - Love Bears Cross Stitch Kit
BL1075/72 Love Bears from the DMC Me to You - Tatty Teddy range. Approx. design size 25cm x 25cm (10 x 10") Kit contains 14ct aida, DMC stranded cotton, Needle and instructions. RRP £32.99 Currently out of stock, normal despatch time 7-14 days.
Salesprice with discount: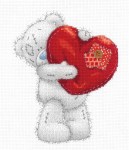 Tatty Teddy Printed Cross Stitch Kit - Heart
DMC Tatty Teddy Printed Cross Stitch Kit - Heart This is a printed cross stitch kit, you don't stitch Tatty Teddy himself just simply stitch the motif and his blue nose! Level: Easy. Kit includes DMC 6-strand Mouline thread, 14ct printed aida, cross stitch chart, coloured cross stitch guide and needle. Design size - 14 x 18cm (5.5 x 7") RRP £18.99 Currently out of stock, normal despatch time 7-14 days
Salesprice with discount: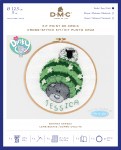 Me to You Dinky Bear Cross Stitch Kit - Lamb Beanie
Lamb Beanie Cross Stitch Kit from the Me to You Dinky Bear Range Level: Easy. Kit includes DMC 6 strand Mouline thread, 14ct white aida, chart & instructions, needle and ready to hang 12.5cm (5") wooden embroidery hoop.(Includes alphabet chart). RRP £14.99
Salesprice with discount:
Me to You Dinky Bear Cross Stitch Kit - Berry Beanie
Berry Beanie Cross Stitch Kit from the Me to You Dinky Bear Range Level: Easy. Kit includes DMC 6 strand Mouline thread, 14ct white aida, chart & instructions, needle and ready to hang 12.5cm (5") wooden embroidery hoop.(Includes alphabet chart). RRP £14.99
Salesprice with discount: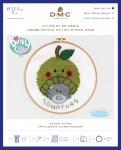 Me to You Dinky Bear Cross Stitch Kit - Apple Beanie
Apple Beanie Cross Stitch Kit from the Me to You Dinky Bear Range Level: Easy. Kit includes DMC 6 strand Mouline thread, 14ct white aida, chart & instructions, needle and ready to hang 12.5cm (5") wooden embroidery hoop.(Includes alphabet chart). RRP £14.99
Salesprice with discount: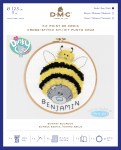 Me to You Dinky Bear Cross Stitch Kit - Bumble Beanie
Bumble Beanie Cross Stitch Kit from the Me to You Dinky Bear Range Level: Easy. Kit includes DMC 6 strand Mouline thread, 14ct white aida, chart & instructions, needle and ready to hang 12.5cm (5") wooden embroidery hoop.(Includes alphabet chart). RRP £14.99
Salesprice with discount: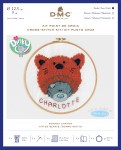 Me to You Dinky Bear Cross Stitch Kit - Kitten Beanie
Kitten Beanie Cross Stitch Kit from the Me to You Dinky Bear Range Level: Easy. Kit includes DMC 6 strand Mouline thread, 14ct white aida, chart & instructions, needle and ready to hang 12.5cm (5") wooden embroidery hoop.(Includes alphabet chart). RRP £14.99
Salesprice with discount: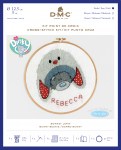 Me to You Dinky Bear Cross Stitch Kit - Bunny Beanie
Bunny Beanie Cross Stitch Kit from the Me to You Dinky Bear Range Level: Easy. Kit includes DMC 6 strand Mouline thread, 14ct white aida, chart & instructions, needle and ready to hang 12.5cm (5") wooden embroidery hoop.(Includes alphabet chart). RRP £14.99
Salesprice with discount: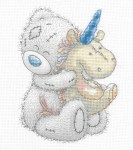 Tatty Teddy Printed Cross Stitch Kit - Unicorn
DMC Tatty Teddy Printed Cross Stitch Kit - Unicorn This is a printed cross stitch kit, you don't stitch Tatty Teddy himself just simply stitch the motif and his blue nose! Level: Easy. Kit includes DMC 6-strand Mouline thread, 14ct printed aida, cross stitch chart, coloured cross stitch guide and needle. Design size - 14 x 18cm (5.5 x 7") RRP £18.99
Salesprice with discount: