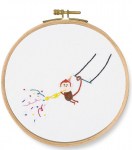 Trumpet! Monkey Printed Embroidery Kit
DMC TB129 Trumpet! Monkey Printed Embroidery Kit From a range of Fun Embroidery designs, brilliant for birthdays or to brighten up a child's room. Kit includes DMC 6-stranded mouline threads on organiser, printed 100% cotton, stitch instructions and coloured embroidery guide, needle plus ready to hang 18.5cm (7") wooden embroidery hoop. Level: Moderate RRP £15.99
Salesprice with discount: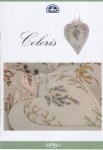 DMC Coloris Hearts Traditional Embroidery Booklet
Coloris Hearts Traditional Embroidery Chart Booklet. 4 Seasonal Heart Traditional Embroidery Designs for using the DMC Coloris Threads. Designs for Spring Heart, Summer Heart, Autumn Heart and Winter Heart (Threads not included) RRP £3.99
Salesprice with discount:
Discount: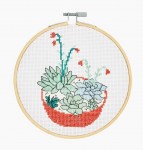 Succulents Cross Stitch Kit
Succulents Cross Stitch kit - part of the DMC Extra Value range. Easy design ideal for beginners. Kit includes 6 stranded cotton, chart and instructions, 14ct aida , needle and ready to hang 15cm (6") wooden embroidery hoop.
Salesprice with discount:
Spider Lace - Grey Aida with sparkles - 16 count
Fabric Flair Spider Lace - Grey 16 count Aida with sparkles Fat Quarter - 50 x 45cm. Image shows full design rather than scan of fabric so exact shade of Grey will differ. The high Spiders are either on the left or right so if you have a preference please ask. (This is a pre-cut piece due to the way it is printed so multiple pieces would come as individual pieces)
Salesprice with discount:
Discount: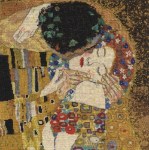 The Kiss by Gustav Klimt Counted Cross Stitch Kit
The Kiss by Gustav Klimt Counted Cross Stitch kit. Design Size approx. 28.5cm x 28.5cm (11.2 x 11.2") Kit includes 14ct White Aida, DMC 6-strand Mouline thread, Charts & instructions and needle. RRP £25.99
Salesprice with discount: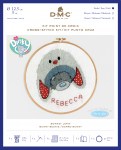 Me to You Dinky Bear Cross Stitch Kit - Bunny Beanie
Bunny Beanie Cross Stitch Kit from the Me to You Dinky Bear Range Level: Easy. Kit includes DMC 6 strand Mouline thread, 14ct white aida, chart & instructions, needle and ready to hang 12.5cm (5") wooden embroidery hoop.(Includes alphabet chart). RRP £14.99
Salesprice with discount: