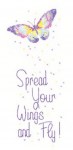 Spread Your Wings Cross Stitch Kit
Spread Your Wings from the Peter Underhill Collection at Heritage Crafts. Kit contains 14ct Zweigart aida fabric, Charts and instructions, Needle and DMC stranded Cottons. Approx. design size 9 x 21cm (3.75 x 8.25")
Salesprice with discount:
Discount: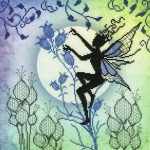 Harebell Cross Stitch Kit
Bothy Threads Harebell Cross Stitch kit. Kit includes 14ct colour printed Zweigart Aida, stranded cottons, metallic thread, sparkes, beads, needles, stitch diagram and instructions. Finished size 26 by 26cm. Currently out of stock, normal despatch time 7-10 days.
Salesprice with discount:
Discount: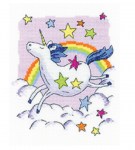 Unicorn Cross Stitch Kit
Unicorn Cross Stitch kit from the Karen Carter Collection at Heritage. Kit contains 14ct Zweigart Aida fabric, Charts and instructions, Needle and DMC stranded Cottons. Approx design size 13.5 x 15.5cm (5.25 x 6.25"). This design uses all whole stitches.
Salesprice with discount:
Discount: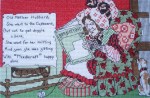 Old Mother Hubbard - Needlecraft Advert Cross Stitch Kit
This wonderful Cross Stitch Kit has a slight twist to the normal Old Mother Hubbard Rhyme! It's inspired by an early 20th Century advert for Needlecraft Magazine. The kit includes 14ct White aida, DMC Threads and needle. The design when stitched is approx. 21.4cm x 13.8cm (8.4 x 5.4")RRP £25
Salesprice with discount:
Discount: