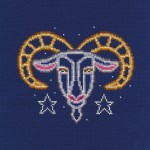 Capricorn - Signs of the Zodiac Cross Stitch Kit
Capricorn - DMC Signs of the Zodiac Counted Cross Stitch Kit designed by Emily Peacock. Kit includes DMC Etoile (sparkling) thread, Needle, 14 count Navy Blue aida, chart & instructions. Design size approx 16.9 x 13.2cm (6.64" x 5.21") RRP £14.99 Currently out of stock, normal despatch time 7-14 days.
Salesprice with discount:
Discount: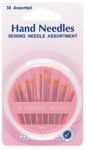 Hemline Hand Needles Compact - Sewing Needles Assortment
Hemline Hand Needles - Sewing Needle Assortment Needle compact containing 30 assorted sewing needles including Betweens, Sharps, Tapestry and Embroidery. Betweens -small, fine needles used for quilting & fine stitching Sharps - used for general sewing Tapestry - larger eye and rounded/blunt point. Embroidery - long eye for easier thread of multi threads. Also good for general sewing.
Salesprice with discount:
Discount: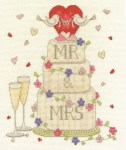 Wedding Congratulations Cross Stitch Kit
From the Modern Collection at DMC. Wedding Congratulations by Jane Prutton Design Size 25 x 30cm (10 x 12") Kit contains 14ct White Iridescent aida, DMC stranded cotton, Needle and instructions. RRP £32.49 Despatch time 7-14 days
Salesprice with discount: