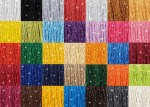 Full Set of 35 DMC Etoile Threads
Brand New Sparkly Thread for 2018! Full set of DMC Etoile thread - 1 skein of each of the 35 shades. This new DMC sparkling thread is soft smooth and just as easy to stitch as the normal stranded cotton but adds an elegant shimmer to your embroidery! RRP £52.50
Salesprice with discount:
Discount: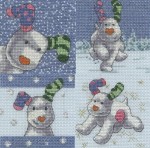 Set of 4 The Snowdog Cross Stitch Kit
Set of 4 of The Snowdog Cross Stitch Kits. Ideal for gifting and card-making. Kits included are Snowdog - Stars, It's Snowing, Fir Trees and Snowflakes. Each Kit includes DMC 6 stranded cotton, chart and instructions, 14ct iridescent aida and needle. Each design is approx. 9.3cm x 9.3cm (3.6 x 3.6") RRP £23.96
Salesprice with discount: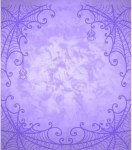 Spider Lace - Purple Aida - 16 count
Fabric Flair Spider Lace - Purple 16 count Aida Fat Quarter - 50 x 45cm. Image shows full design rather than scan of fabric so exact shade of purple will differ. The high Spiders are either on the left or right so if you have a preference please ask. (This is a pre-cut piece due to the way it is printed so multiple pieces would come as individual pieces) Currently out of stock, normal despatch time 7-14 days.
Salesprice with discount:
Discount: