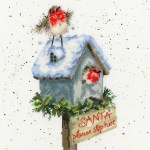 Santa Please Stop Here - Wrendale Designs Cross Stitch Kit
Santa Please Stop Here Cross Stitch kit from the Wrendale Designs Collection at Bothy Threads - Kit includes 14 count Zweigart Aida with a printed speckled background, pre-sorted stranded cottons, sparkle, needle, stitch diagram and instructions. Finished size 26 by 26cm. Currently out of stock, normal despatch time 7-10 days.
Salesprice with discount:
Discount: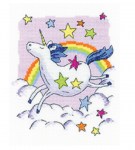 Unicorn Cross Stitch Kit
Unicorn Cross Stitch kit from the Karen Carter Collection at Heritage. Kit contains 14ct Zweigart Aida fabric, Charts and instructions, Needle and DMC stranded Cottons. Approx design size 13.5 x 15.5cm (5.25 x 6.25"). This design uses all whole stitches.
Salesprice with discount:
Discount: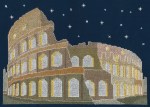 Rome by Night Counted Cross Stitch Kit
Rome by Night Counted Cross Stitch kit from the Glow-in-the D'architecture range at DMC. Designed by Mr X Stitch. Kit includes DMC 6 strand mouline and Light Effects thread, Navy Blue 14 ct aida, cross stitch chart, coloured cross stitch guide and needle. Design glows in the Dark! Level: Intermediate. Design size - 24.5 x 17cm (9.5 x 7") RRP £19.99 Now discontinued
Salesprice with discount: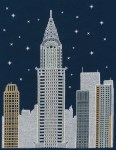 New York by Night Counted Cross Stitch Kit
New York by Night Counted Cross Stitch kit from the Glow-in-the D'architecture range at DMC. Designed by Mr X Stitch. Kit includes DMC 6 strand mouline and Light Effects thread, Navy Blue 14 ct aida, cross stitch chart, coloured cross stitch guide and needle. Design glows in the Dark! Level: Intermediate. Design size - 20 x 25cm (8 x 10") RRP £19.99
Salesprice with discount: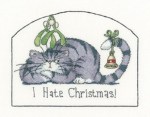 I hate Christmas Cats Rule Cross Stitch Kit
I hate Christmas - Cat Cross Stitch kit from the Cats Rule Collection by Peter Underhill. Kit contains 14ct Zweigart fabric, Chart and instructions, Needle and DMC stranded Cottons. Approx design size 18 x 13.5cm (7 x 5.5")
Salesprice with discount:
Discount: