Golden Lily Counted Cross Stitch Kit
Golden Lily by J. H. Dearle - Counted Cross Stitch kit with embroidery hoop from the V & A Museum Collection at DMC. Kit includes 14ct Dark Green Aida, DMC 6-strand Mouline thread, Cross stitch chart and instructions, needle and 18cm (7") wooden embroidery hoop. RRP £37.50
Salesprice with discount:

Strawberry Thief Counted Cross Stitch Bookmark Kit
Strawberry Thief by William Morris Counted Cross Stitch Bookmark kit from the V & A Museum Collection at DMC. Design Size approx. 6 x 19.5cm (2.4 x 7.7"). Kit includes DMC 6-strand Mouline thread, 16 count aida, Cross stitch chart and instructions, card, felt and needle. RRP £16.50 Currently out of stock, normal despatch time 7-14 days.
Salesprice with discount:

Compton Counted Cross Stitch Bookmark Kit
Compton by J H Dearle Counted Cross Stitch Bookmark kit from the V & A Museum Collection at DMC. Design Size approx. 6 x 19.5cm (2.4 x 7.7"). Kit includes DMC 6-strand Mouline thread, 16 count aida, Cross stitch chart and instructions, card, felt and needle. RRP £16.50
Salesprice with discount:

Golden Lily Counted Cross Stitch Bookmark Kit
Golden Lily by J H Dearle Counted Cross Stitch Bookmark kit from the V & A Museum Collection at DMC. Design Size approx. 6 x 19.5cm (2.4 x 7.7"). Kit includes DMC 6-strand Mouline thread, 16 count aida, Cross stitch chart and instructions, card, felt and needle. RRP £16.50
Salesprice with discount:

Bird and Berry Counted Cross Stitch Bookmark Kit
Bird and Berry by C F A Voysey Counted Cross Stitch Bookmark kit from the V & A Museum Collection at DMC. Design Size approx. 6 x 19.5cm (2.4 x 7.7"). Kit includes DMC 6-strand Mouline thread, 16 count aida, Cross stitch chart and instructions, card, felt and needle. RRP £16.50
Salesprice with discount:
Strawberry Thief Counted Cross Stitch Kit
Strawberry Thief by William Morris - Counted Cross Stitch kit with embroidery hoop from the V & A Museum Collection at DMC. Kit includes 14ct Navy Aida, DMC 6-strand Mouline thread, Cross stitch chart and instructions, needle and 18cm (7") wooden embroidery hoop. RRP £37.50
Salesprice with discount: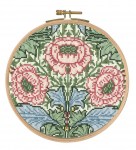 Myrtle Counted Cross Stitch Kit
Myrtle by J. H. Dearle - Counted Cross Stitch kit with embroidery hoop from the V & A Museum Collection at DMC. Kit includes 14ct Cream Aida, DMC 6-strand Mouline thread, Cross stitch chart and instructions, needle and 18cm (7") wooden embroidery hoop. RRP £37.50
Salesprice with discount:

Display #